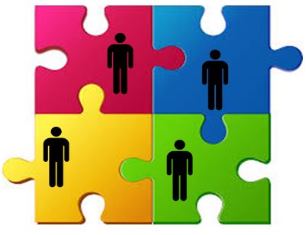 "Peer learning", or "Peer-to-Peer Education" are examples of constructivist education and a departure from traditional didactic delivery of material. Currently "peer-to-peer learning" is viewed as a mode of "learning for everyone, by everyone, about almost anything". Whether it takes place in a formal or informal learning context, in small groups or online, peer learning manifests aspects of self-organization that are mostly absent from pedagogical models of teaching and learning. Other types of peer-based learning have been developed from the peer education, namely peer-assisted learning (PL) and team-based learning (TBL), which tend to have the same basic idea, although the peers are gathered in other types of arrangements.
Peer learning is taking place across a variety of disciplines. In a recent survey by Keenan (2014) for the UK Higher Education Academy, respondents indicated that recipients are predominantly first year students, though schemes also extend to higher years across a diverse range of student types, and outreach to sixth form pupils. Peer-led learning approaches that use structured schemes such as peer-assisted learning (PAL) and peer-assisted study sessions (PASS) are the two chief examples cited in the survey.
Peer-assisted learning (PAL) and peer-assisted study sessions (PASS) derive from the 'Supplemental Instruction' (SI) model developed in 1973 in the US by Deana Martin. Hilsdon (2014) suggests that genuinely cooperative and collaborative work, with relatively symmetrical power relationships, is underway in PALS sessions to interpret course-related concepts and language, and with further study this could develop student views on the nature of knowledge, and ways to improve pedagogy].
Despite all the research being carried out, including in the recent years, some authors still pointed out the need for robust evidences about the effectiveness of peer education. Particularly, more qualitative research is needed to provide an insight into the complex interactions of the peer education process.