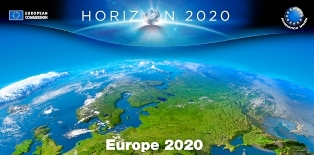 Horizon 2020 is the biggest EU Research and Innovation programme ever, it's the financial instrument implementing the Innovation Union, a Europe 2020 flagship initiative aimed at securing Europe's global competitiveness.
The European Parliament agreed that research is an investment in our future and so put it at the heart of the EU's blueprint for smart, sustainable and inclusive growth and jobs. Horizon 2020 is helping to improve research and innovation with its emphasis on excellent science, industrial leadership and tackling societal challenges. The goal is to ensure Europe produces world-class science, removes barriers to innovation and makes it easier for the public and private sectors to work together in delivering innovation. Furthermore, Horizon 2020 is open to everyone.
One of the priority of Horizon 2020 is to build capacities and develop innovative ways of connecting science to society. The aim is to make science more attractive to young people, increase society's appetite for innovation, and open up further research and innovation activities. Innovative formal and informal science education teaching and learning is important in order to raise both young boys' and girls' awareness of the different aspects encompassing science and technology in today's society and to address the challenges faced by young people when pursuing careers in Science, Technology, Engineering and Mathematics.
Under the section "Newsroom" of the Science Education area, you'll be alble to find press releases, multimedia, policies, project and other kind of news regarding new implementation of science education around Europe.
One of the project developed under the Horizon 2020 programme is the EU-funded FUSENET project that created new learning opportunities for Europe's future fusion scientists by developing educational materials, organizing internships and bringing academia and industry closer together. At the start of the FUSENET project, no university had comprehensive expertise, or its own fusion programme, but at the end, putting together the expertise all over Europe there were sufficient resources and people. During the project's five-year cycle, joint educational activities such as workshops and summer schools were organised, while educational tools such as hands-on laboratories, web-based course material and a fusion technology high school textbook were developed. The project also brought universities together in order to develop common academic criteria and with the common idea that spending money on students is always an efficient investment.