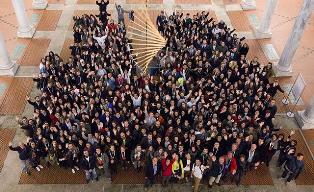 The ScienceFestival ("Festival della Scienza") is a reference point for the dissemination of science where researchers, enthusiasts, schools and families meet up in one of the largest events for the dissemination of scientific culture at the international level.
The Festival offers every year, in Genoa (Italy), events inspired by the most current and timely issues of scientific debate, premieres of shows and exhibitions dedicated to the encounter between art and science, paying particular attention to the novelty of the most advanced and researchers in emerging markets research. The Festival offers meetings, workshops, shows and conferences to tell the science in an innovative and engaging, with interactive and cross events. The meetings present a large national and international guests and it's an event with an inherent international character.
Every year a different theme is presented and the most distinguished scientists from all around the world, even winners of Nobel Prizes, come to Genoa to discuss their opinion.
In the Festival program, teachers can find a wide range of content, to involve the classes on a journey into the sign and curiosity to discover and share the knowledge charm. Furthermore, to involve the participation of schools at the Festival, for them bookings are totally free.
The high schools in Gallarate, Italy, for ten years organized scientific meetings with the aim to promote scientific culture, stimulating the update of educational innovation and reflection on the themes of 'frontier' of the science. From eight years, with the "Settimana della Scienza", the high schools wanted to expand the cultural offer addressed with laboratory activities and exhibitions for students of all orders of schools, from primary to high school, and all the citizens with conferences, shows and a variety of events, held in the city's theatres and in high schools.